When you find the perfect wedding gown or prom dress, you want it to fit perfectly so you can feel beautiful on your special day. But, often, off-the-rack dresses don't match your unique measurements perfectly, and you need the dress altered. Some common issues you might see are that the hem of the dress is too long, the shoulder straps are too tight, or the shape of the dress isn't flattering in some areas.
Thankfully, you don't have to live with your perfect dress looking imperfect on your body. By having professional prom or wedding dress alterations done, you can ensure your dress fits perfectly for your big day. You can expect to try on the dress at alteration appointments and have the tailor analyze it to ensure it fits you comfortably. This process may require several dress fittings, but all these steps are necessary to ensure a perfect fit for you.
But don't take your dress to just any bridal boutique or seamstress. Instead, choose our professional tailors with more than 30 years of experience in prom gown and wedding dress fittings and alterations. We employ two full-time dress tailors who have seen almost everything regarding dresses, and we can help you too! Just get in touch with us today to schedule your appointment!
Schedule Your Alterations Appointment
What Should I Bring to the Appointment?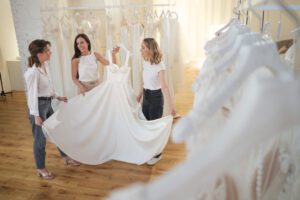 When going to your dress alteration appointment, it's important to bring several items with you. At the bare minimum, you will need the following:
The dress that needs altering
The shoes you plan on wearing that day so the tailor can ensure the length of the dress is right
Any undergarments you will wear, such as a strapless bra, shapewear, or a slip.
You may also want to bring at least one person, like a friend or family member, to help you in and out of the dress. The dress tailor can help in a pinch if you have no one available. If you plan to wear a veil, belt, or other accessories, bring those to the appointment to ensure the perfect fit for your complete ensemble.
Additionally, if you have any other special requests, such as changing the back of the dress to an open back or a lace-up corset, adding sleeves, or shortening straps, be sure to bring a list and examples with you to show your professional seamstress. Your prom fitting or wedding dress alterations will go much smoother if you have these items with you and ensure your dress will fit properly.
How Far in Advanced Should I Schedule My Alteration Appointment?
It would be best to begin gown shopping at bridal salons approximately six months before your scheduled event. This typical timeline gives enough time for the dress to be ordered, arrive, and make the necessary alterations. Once your dress arrives, you should call us to schedule your wedding dress alterations appointment.
At our professional prom and wedding dress alteration shop, we recommend prom dresses be brought for the first alterations appointment about three to four weeks before the event. Ideally, the first fitting for wedding alterations will be two months before the big day but at least four to six weeks before your wedding date. It's always better to bring the dress in sooner rather than later to ensure we can fix any unexpected issues for your special day.
But we understand that sometimes things happen. If you are in a pinch and need last-minute alterations, our skilled tailors can help with your prom or wedding dress alterations. However, we can't guarantee that we'll be able to accommodate your request due to the amount of time necessary for alterations.
What Happens at the Appointment?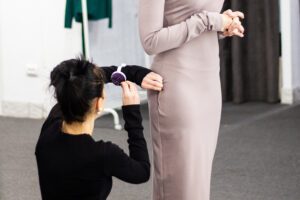 Coming for your first fitting for wedding dress alterations can be a little scary, especially if you are self-conscious about your appearance. But rest assured that our experienced seamstresses will help you feel as comfortable as possible throughout the alterations process. To help you feel more comfortable, here is what you can expect to happen at the appointment:
You'll be taken to our comfortable fitting area for your prom or bridal alterations.
Next, you'll be given some privacy as you put on your undergarments, dress or gown, and wedding shoes. Please do not hesitate to ask if you need help getting into the dress, zipping it, or anything else.
The tailor will measure and analyze your dress to determine what needs altering and speak with you about what you want. Here's a good time to tell her if you want to add sleeves or custom wedding alterations.
As you speak with your seamstress and tell them what you want, they will make simple adjustments and secure them with straight pins. For example, if you need a different length for the dress, they will fold up the material where it needs to be and secure it in place with a straight pin.
You may be asked to walk around to see if the dress looks odd in some places so that they can get a better idea of what it will look like once the alterations are finished.
After completing all the measurements and requests, you'll need to carefully slip out of the dress without disturbing the straight pins. You can then get dressed in your regular clothes.
Afterward, you'll schedule a time for your second dress fitting appointment. At a second fitting, you'll follow a similar procedure. If no more alterations need to be made, you can take your dress home. Otherwise, you'll have to come back for a final fitting appointment. Most brides typically have more than two fittings, especially if they lose weight or gain weight, which affects the look of the dress between appointments.
Schedule Your Alterations Appointment
What If I Have a Custom Alteration Request?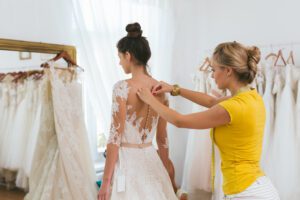 The alteration process is all about making the dress be about you. From ensuring wedding dresses fit perfectly to answering your wedding dress alteration FAQs, you can expect our local tailor to do what it takes to make you happy. We want your prom or bridal look to be exactly how you dream of it, and if that includes custom alterations, we'd be happy to make those for you.
Beyond our common alterations, we can make your dress fit to better accommodate a larger bust, adjusting the trim, beads, lace, or sequins. We can also make alterations to veils and headdresses and even turn extra fabric into matching accessories for the groom and his attendants.
Your prom or wedding day should be about you feeling your best. You deserve your dream wedding dress or gown, and many brides find that having custom alterations makes their wedding planning much less stressful.
Where Can I Go for Prom or Wedding Dress Alterations in Lancaster County?
When you need wedding dress alterations, you can choose where to go. Many bridal salons offer this service and can provide simple alterations. But wedding dress alterations cost much more at these places than if you were to come to a wedding dress fitting at one of our shops in Elizabethtown or Mount Joy, PA. We can work with the bride or promgoer to ensure their gowns are ready in time for their dance or wedding date.
Whether you need major changes or simpler alterations, you can rest assured that our tailors will pay special attention to detail. We strive to ensure our clients feel comfortable, confident, and appreciated from start to finish. We hope today's wedding dress alteration tips helped you and are ready to schedule your first appointment. Get in touch with us today to get started!