High-Quality Suede and Leather Cleaners in Mount Joy & Elizabethtown, PA
Have your leather or fur items seen better days? Do you wish you could restore them to like-new condition? Do you have new suede shoes that need water repellent? When you have garments made from top-quality materials, you want them to look their best. Unfortunately, most people don't have how to protect their high-quality clothing from dirt, grime, and the effects of aging.
As a result, improperly stored leather and suede garments will deteriorate faster and lose their original beauty. Let our professional suede and leather cleaners in Mount Joy and Elizabethtown, PA, help you restore and preserve them for years to come
Specialty Fabrics Require Precision Care and Cleaning
Whether you own leather, suede, nubuck, sheepskin, or fur garments, you know these specialized items are challenging to clean. Unfortunately, you can't just throw them in the washer with your fingers crossed and hope for the best. They need precision leather and suede cleaners who can restore these items to like-new condition. Let our experienced team clean these items with the skill and care required of specialty fabrics.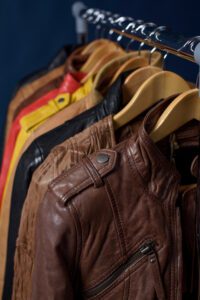 Restore Your Leather Items with Proper Cleaning and Conditioning
Leather jackets and coats are stylish accessories for people of all ages. But after wearing it, the leather becomes dirty, aged, and faded. This degraded condition can cause you to push that piece of clothing to the back of your closet, where time will certainly take its toll, and your likelihood of wearing it again plummets.
Instead of letting a beautiful piece of clothing go to waste, our leather cleaners in Mount Joy & Elizabethtown, PA, can make it look new again. We provide comprehensive cleaning services for most leather garments. All leather skins are reviewed, cleaned, and restored to their original color and texture. Your items will undergo specialty leather cleaners and conditioners to help extend their natural beauty. Items we frequently clean are:
Leather coats and jackets
Leather handbags, briefcases, and carry items
Gloves, hats, and other accessories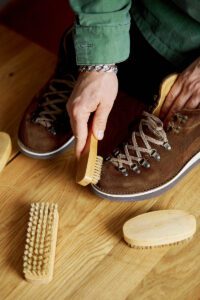 Let Expert Cleaners Protect Your Suede Garments
Scuffs and scratches are hard to remove from suede, and if you spill something on a suede item, forget about it! It's almost impossible to remove it completely without color loss.  The trick to keeping your suede items looking new is adding water repellent before use and after several wearings.
Our professional suede cleaners in Mount Joy and Elizabethtown, PA, use the right water repellent to help prevent stains from forming on your suede and nubuck garments and outerwear.
Additionally, we have had excellent results in cleaning and restoring Ugg boots. Just bring them to us, and we can return them to you looking great, ready to be worn again. We also clean suede items such as:
Suede coats and jackets
Brown, black, and blue suede shoes (or any other color for that matter)
Skirts, hats, and accessories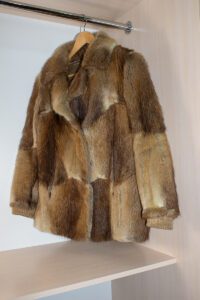 Fur Cleaning Services
In addition to our suede and leather cleaners in Mount Joy & Elizabethtown, PA, we offer specialized fur cleaning to restore the beauty of your fur garments. Fur items, especially coats, can easily attract dust or dirt and are nearly impossible to clean at home. When you bring your fur items to our cleaners, we take the time to brush the fur to remove any loose pieces of dirt and prepare it for specialized cleaning products.
Afterward, you'll receive your fur items back in better condition than you've seen in years. We recommend that you store your furs in specialized bags when at home to prevent damage from UV rays, bugs, or dust. When you bring your fur item to us, we'll handle it with the same care you do at home.
Fur items we clean include:
Fur coats and jackets
Scarves, accessories, and other garments
Sheepskin rugs and seat covers
Choose the Dependable Fur, Suede, and Leather Cleaners in Mount Joy & Elizabethtown, PA
You want your garments made from specialty fabrics, such as leather and suede, to be clean. The problem is that these materials are difficult to clean at home and can often lead to more significant blemishes on your valuable items. This difficulty makes you wonder whether you'll have to completely retire those items because you're too embarrassed to wear them in their current condition.
We believe that you should be able to wear the clothing and accessories you bought, but we understand that cleaning those fabrics at home is confusing at best. That's why our high-quality fur, suede, and leather cleaners in Mount Joy and Elizabethtown, PA, are skilled at using the proper cleaning techniques for your specialty fabrics.
We'll take your old and faded items and restore them to like-new condition, so you can continue wearing and using them for years to come. You can bring them to our team whenever they need a refresh or cleaning. Get in touch with us today to schedule services.
Get an Estimate
For an estimate on your shoe repair, click the button below or call us at
(717) 367-4665
.