Clean Your Clothes 7 Days a Week at Our Laundromat in Mount Joy, PA
When you have dirty clothes and no washing machine in your home, you want a clean, convenient, and affordable laundromat near you to wash them. But many of the nearest laundromats aren't well maintained, and you're afraid your clothes won't get as clean as you'd like. Instead, visit Highlander Cleaner's self-service laundromat at 5 South Barbara Street in Mount Joy, PA! We are open seven days a week from 6 a.m. to 10:30 p.m. to give you the safe and pristine laundry services you deserve.
A Clean and Well-Maintained Laundromat in Mount Joy, PA
Everyone's clothing, bedding, and drapery get dirty. But when your apartment doesn't have washer and dryer hookups, your own machines are on the fritz, or you're traveling, finding a high-quality laundromat near you can be difficult. However, when you choose Highlander Cleaners, it doesn't have to be a challenge.
Our Mount Joy location offers a self-service laundromat for all your laundry needs. You can easily operate our machines with coins or electronically through the ClearToken app. We also have large-capacity machines that allow you to do all your laundry in as little as two hours.
Our Washers and Dryers
Our laundry machines are clean and well-maintained, giving you the peace of mind that someone else's dirt won't end up on your or your family's clothing. We have the following machines for your use with an approximation of how much they can hold to help you visualize the size:
Front-loading Maytag washers:

18 lb. capacity – enough to hold approximately 18 sweatshirts
30 lb. capacity – handles about 60 XL t-shirts
40 lb. capacity – enough room for up to 25 large towels
65 lb. capacity – can hold about 40 pairs of blue jeans

Dryers

30 lb. capacity – with anti-wrinkle cycles
45 lb. capacity – great for large loads
75 lb. capacity – great for large, bulky loads like comforters and sleeping bags
Why Choose Highlander Cleaners? A Better Laundromat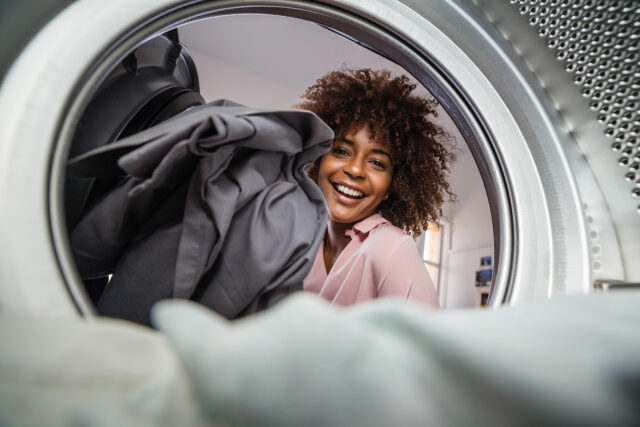 We know that you have your choice of commercial laundries in the area. But the nearest laundromat to you isn't always the best. Some may use hard water, which is damaging to your clothes, and only offer coin-operated machines, but you don't carry cash.
Others may not have the high-capacity machines you need. On the other hand, Highlander Cleaners' laundromat near you solves all your problems.
The Highlander Cleaners's laundromat is a clean, well-lit facility with restrooms and soap/detergent vending areas. Our washers use softened water, which makes a HUGE difference in your clothing. Softened water is gentler on clothes, brightens and whitens, and saves you money by reducing detergent usage. Due to the variety of available machines, we can better suit your needs with whatever items you are cleaning—from your typical laundry loads to large comforters and sleeping bags! If you need help, we have on-site attendants who are happy to assist you during hours when our retail dry cleaning store is open.
Don't like to carry cash? No problem! We have a coinless option you can use by downloading the ClearToken app to your phone and paying for your laundry electronically. This app also enables you to select from multiple languages, making getting the laundry done easier—no matter what language you speak!
And if you need dry cleaners, wedding dress preservation, shoe repair, or alterations, you can bring those items to drop off when you do your regular laundry. Or, if you don't have time to visit our local laundromat, we offer wash and fold laundry services. You can download our mobile app and schedule a pickup right from your mobile phone! We'll come to you to pick up your dirty laundry and then drop off your clean laundry—washed, dried, and folded—right to your doorstep!
Bring Your Laundry or Large Household Items
Perhaps you have a working washing machine or dryer, but you have a load that is too large for it to handle. In that case, our large-capacity washers and dryers are your solution! They're great for cleaning large comforters, blankets, draperies, and other items too large for most residential washing machines. Big or small loads, our machines can wash all sorts of things.
Always Look Your Best with Our Commercial Laundry Services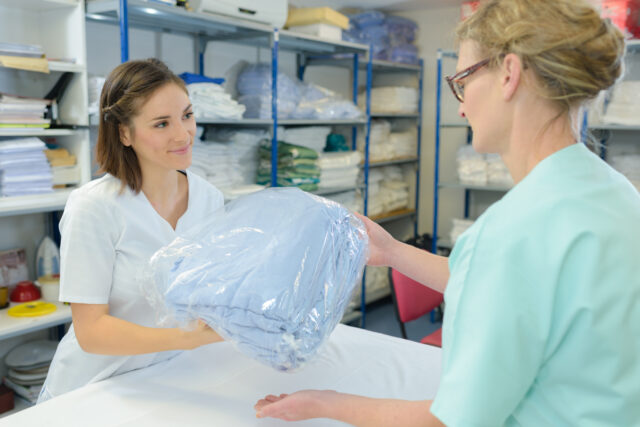 Do you own a business with uniforms, bed and breakfast linens, or cleaning towels and rags that need laundering? Or do your kids have school or sports uniforms that need carefully washed? If so, we can handle that for you with our commercial laundry services! We launder large garment loads for businesses and families across Central PA.
Our large-capacity commercial washers enable us to clean your large-volume loads rapidly. Additionally, our efficient water use and high extraction rate shorten your visit without compromising results.
For a quote or more information on our commercial laundry and uniform cleaning services, click here.
For a Clean and Efficient Laundromat Near You, Visit Highlander Cleaners in Mount Joy!
Cleaning your dirty laundry or large household items shouldn't be a hassle. You deserve a laundromat near you that gets your clothing clean in less time. You shouldn't worry about the condition of your clothing at the end of the cycle or make sure you have enough coins to operate the machines. At Highlander Cleaner's self-serve laundromat in Mount Joy, PA, you can get the clean clothing you want in a well-maintained, safe, and efficient environment.
Visit us today to do your laundry and drop off any dry cleaning or shoe repair needs! Our family-owned and operated business have been serving the people of Central PA for more than 45 years. We'll be happy to help you launder all the fabrics of your life.
Get an Estimate
For an estimate on your shoe repair, click the button below or call us at
(717) 367-4665
.