Uniform Cleaning & Commercial Laundry Solutions for Professionals in Central PA
You've made a whole career serving others—whether in the military, emergency services, healthcare, or other professions. Let us repay you with gratitude by taking extreme care to launder and repair your uniform to have it looking good as new. Join the many other organizations throughout Central PA that depend on us for specialized uniform cleaning and commercial laundry services.
Always Look Your Best with a Professionally Cleaned Uniform
When you work at a job that requires you to wear a uniform, there is no compromise to having a clean, pristine outfit. When it's dirty or needs repairing, you can't just throw it in the washing machine and hope for the best. You need professional, high-quality uniform cleaning services from a trusted dry-cleaning operation.
Since 1977, Highlander Cleaners has served various businesses and groups that require consistent and meticulous garment cleaning for their personnel. Our customers range from police and fire departments in Lancaster and Dauphin Counties, as well as health care facilities, retirement communities, and numerous other organizations with laundry needs.
Convenient Uniform and Commercial Laundry Solutions
Choosing Highlander Cleaners for cleaning, pressing, altering, or repairing your service uniform is easy! With two convenient locations in Elizabethtown and Mount Joy, PA, you are sure to get high-quality uniform cleaning and commercial laundry service at a nearby location.
We only use state-of-the-art laundry equipment to ensure your uniform is properly cared for and pay attention to the smallest details on your uniform to ensure your satisfaction. Other benefits of choosing us for your uniform dry cleaning include:
Competitive pricing and convenient billing/email receipt systems
Timely pick up, turnaround, and delivery
No outsourcing! All garments handled on-site at our two facilities
Pre-delivery inspection: Our managers inspect completed, cleaned uniforms before delivering them back to your office, practice location, or station
Completed orders delivered on time, cleaned to your specific requirements
Image enhancement that results from professional uniform cleaning
Alterations and attention to detail to ensure your satisfaction
Excellent customer service
How Highlander Cleaners Helps Various Industries Look Sharp
If you are looking for commercial laundry services for your business, or need to get your entire company's uniforms cleaned and pressed for an upcoming event, Highlander Cleaners has you covered! We have experience helping multiple industries in the area, including:
Emergency Personnel
We know that you put your life on the line to help others, so we take great honor and care in cleaning your uniforms. We provide professional uniform cleaning for police officers, firefighters, EMTs, and other emergency care providers. In addition, we can help with repairs to uniforms, water-repellant coatings, free custom labeling, and patch stitching.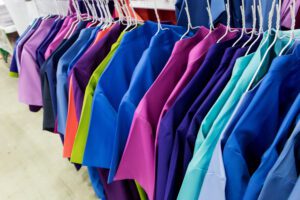 Healthcare Organization
Need full-service laundering of medical attire for your hospital, dental office, veterinary clinic, surgery center, massage therapy practice, or another facility? Highlander Cleaners customizes specific cleaning treatments as needed for each organization. Our laundry services can tackle even the toughest cleaning jobs, so bring your uniforms to us today!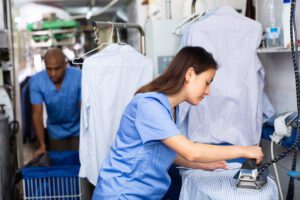 Professional Offices
What's better than having someone come to your place of business to pick up your dirty uniforms and then deliver them on time to your doorstep? With Highlander Cleaners, you can enjoy convenient pickup and delivery of dry cleaning items for you and your employees. We serve legal offices, accountants, car dealerships, financial service companies, and many others.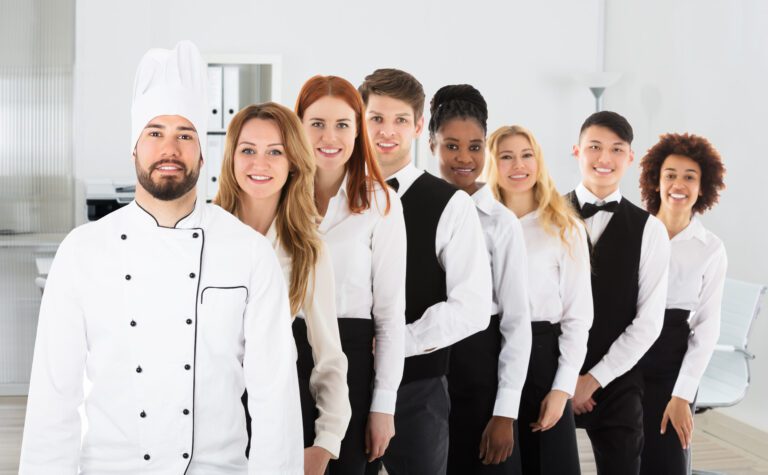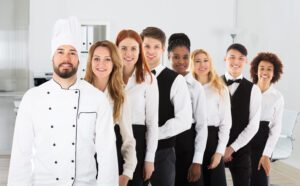 Hospitality and Service Industries
When you work in a service industry, first impressions matter. Make your business stand out with professional laundry cleaning for restaurants, hotels, spas, janitorial companies, and more. You'll not only impress your guests with how well put-together your staff looks, but you'll save time and money when you choose to partner with Highlander Cleaners for your commercial laundry needs.
For the Best Uniform and Commercial Laundry Cleaning, Trust Highlander Cleaners!
Highlander Cleaners focuses on the highest professional cleaning standards with a delicate touch. Our experienced staff will tailor our services to your specific needs, no matter what type of uniform cleaning or commercial laundry requirements you have!
We'd be honored to help your uniform look its best so you can do your job with pride. Get started today by scheduling your dry cleaning services, or for more information, call 717-367-4665 or email info@highlandercleaners.com.
Get an Estimate
For an estimate on your shoe repair, click the button below or call us at
(717) 367-4665
.